FUTURISTIC - FLEXIBLE - FORMIDABLE
This 3rd generation of the mc² 56 represents the next step in the evolution of a console that has dominated the audio production industry with hundreds of units in operation around the world. Designed to deliver unrivaled innovation, it provides not just pure and simple access to ultimate performance – it's a global standard redefined.
Our newest version of the mc² 56 incorporates several groundbreaking features from Lawo's mc2 96 flagship console without sacrificing the identity of its predecessors – retaining virtues like compact size, flexibility and versatile design for applications ranging from broadcast trucks and studios to live performance and recording.
For optimized performance within IP video production environments, there is full support for native SMPTE 2110, AES67/ RAVENNA and DANTE, while Lawo's revolutionary LiveView™ feature enables thumbnail previews of video streams directly in the fader labeling displays. Best-in-class performance in networking applications has been taken to the next level with the addition of unique capabilities such as IP-Share™ gain compensation and DSCA™ Dynamic Surface to Core Allocation. All of this and more, simply reinforces this console's place as the number one choice within complex IP-based production infrastructures.
Push the envelope and take your audio production capabilities even further than you imagined with the new mc² 56. Now more than ever, the global standard in audio production consoles.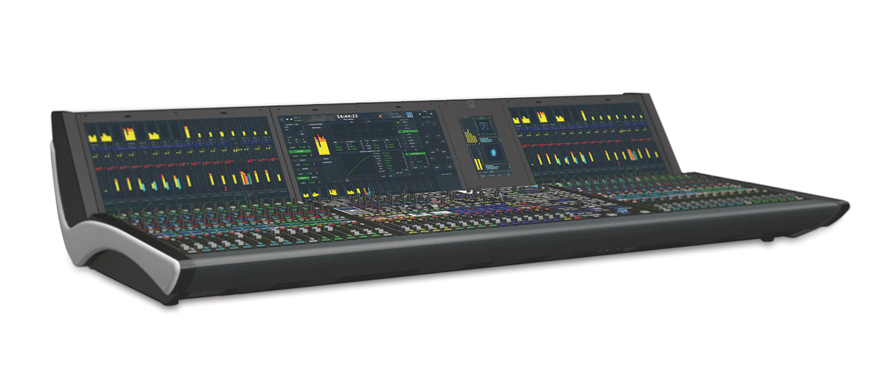 AT A GLANCE
Frames with 16 to 112 faders
Up to 8,192 x 8,192 crosspoints
Up to 888 DSP channels
Up to 144 summing buses
Up to 128 aux buses
44.1 – 96 kHz operation
Designed for IP-based infrastructures with native support for all relevant IP standards: SMPTE 2110, AES67, RAVENNA and DANTE®
APPLICATIONS
HIGHLIGHTS FOR BROADCAST 

IP-based infrastructure with native support for all relevant IP standards: SMPTE 2110, AES67, RAVENNA and DANTE®
Optimized for multi-user operation
Advanced mix assist systems (AutoMix, UpMix, DownMix, prepared for KICK)
Networking and processing capacity with up to 8,192 x 8,192 crosspoints, 888 DSP channels, 144 summing buses and 128 aux buses
44.1 – 96 kHz operation
Comprehensive Audio-Follow-Video functionality
LiveView™ video thumbnails
IP-Share™ Network Gain Compensation
DSCA™ Dynamic-Surface-to-Core Allocation
Integrated 3D / Immersive mixing tools
Parallel compression
Integrated loudness metering
Enhanced signal management functions for large productions (including swap and  
HIGHLIGHTS FOR RECORDING 

Dynamic timecode automation
Lawo-grade microphone preamps and processing algorithms
Machine / DAW remote control
Fully customizable signal chain with four independent dynamic modules
Clickless-delay adjustments
Parallel compression
Fanless console design
 HIGHLIGHTS FOR PERFORMING ARTS 

Selective Recall
Oversnaps (relative trim-sets)
Comprehensive theater automation cue list including multiple triggers (MIDI, GPIO, LTC, ...)
Waves SoundGrid® Integration
Neumann DMI-8® digital microphone integration
Workflow-specific customization of functionality and features
Clickless-delay adjustments
Mirror-console operation
A/B input switch
Cascaded / nested VCAs
IP-Share TM Network Gain Compensation
iPad and Windows Tablet remote control software
Integrated loudness metering for "visual" mixing 


Control Panel
Frames from 16 to 112 faders*
Remote stand-alone frames of 16 faders
6 banks each with 2 layers
100 mm fader + 4 freely adjustable rotary knobs + Input-Gain controller + channel display for each fader with sense-triggered change of module display
TFT metering: mono, stereo or up to 7.1 including bus assignment, gain reduction for dynamics, AfV status, VCA
assignment, Mix-Minus, Signal Patching, Meter selection, Automix state
GUI page output, e.g. metering, on an external monitor
8 user buttons, 4 talkback buttons and 4 user buttons per fader with 16 functions each
Optional: two integrated user panels (TC automation panel, 40 user button panel, reveal fader panel, RTW TM7 or TM9 goniometer), script tray
* dual fader version scheduled for Q4/2018

Signal Processing
40-bit floating point
888 channels and 144 summing buses
Up to 760 inputs with A/B input, up to 64 sub-groups, up to 128 aux buses, up to 96 track buses, up to 48 main sums
Rapid switching of channel and bus to mono / stereo / surround
Up to 96 surround channels, 128 VCA groups with metering, 256 GP channels
Surround formats: DTS & Dolby ® Digital 5.1, Dolby ® Pro-logic 4.0, DTS ES & Dolby ® EX 6.1, SDDS 7.1, DTS-HD 7.1,diverse panning characteristics, surround aux bus
2 AFL: 1 surround 8-channel, 1 stereo
2 PFL stereo
Audio-follow-Video with 128 events, control via Remote MNOPL, GPI or matrix connection, envelope up to 10s fade time
Solo In Place
Permanent input meter at the fader, adjustable INPUT, PF, AF, DIROUT, TRACK meter point in channel display
Loudness Metering according to EBU R128 and ATSC A/85, momentary or short term in every channel, integrated measurement on sum channels with display of integrated LUFS value in headline
Modules: INMIX with MS decoder, digital amp, 2-band fully parametric filter, 4-band fully parametric EQ, 2-band fully parametric side chain filter, insert, delay up to 1800 ms – switchable units: meters, milliseconds, frames,
4 independent dynamic modules: expander, gate, compressor (incl. parallel compression), limiter, image, meter, direct out
AMBIT Upmix, available on every 5.1 channel, fully Downmix compatible
8 Automix groups available for mono/stereo/surround channels with unlimited contributing channels each
Inline configuration with send / return switching – per channel or global
Fully-equipped surround channel with coupling of all channel parameters and hyper-panning
Routing Matrix
Up to 8,192 x 8,192 crosspoints, non-blocking
96 kHz, 24-bit
Fully redundant signal path
Level adjustment for all inputs and outputs
Downmixing from surround (up to 7.1) to stereo
Integrated monitoring devices for remote locations, e.g. director's room
1,016 internal loop-backs
Full networking of up to 14 Nova73 Cores, share and import of sources and destinations, studio intervention
Full snapshot and production portability independent of matrix and DSP size
Waves SoundGrid ® integration
Waves SoundGrid ® integration with storage of plug-in parameters in snapshot and production data
Interface
Mic / Line, Line Out, AES3, 3G SDI, HD-SDI, MADI, ATM, GPIO, Serial, MIDI, ADAT ®, RAVENNA / AES67 / SMPTE 2110, DANTE ® Audio-over-IP; for details see DALLIS product information
Stereo and surround monitoring systems
Synchronisation
Blackburst, Wordclock, PTP, AES3, MADI, DANTE, 3 redundant inputs with automatic detection
Redundancy
PSUs, DSP board, router board
Fully redundant signal path
Redundant control system, exchangeable during run time, full data redundancy
Control Unit
Bay ISO with separate layer and bank switching, plus second PFL / AFL bus
Global A / B input switching
Enhanced mix-minus control with independent off-air conference
Fader control of all level parameters
Diverse tally and fader start modes
Program switch
Machine control
Audio-follow-Video, up to 128 camera tallies, Ethernet or GPI controlled
Camera mic remote via GPI or voltage control
External Control System
Remote control of all routing parameters via network
Ember+ control protocol integrated
Remote control of integrated matrix monitoring units
Online configuration with AdminHD, graphical configuration of Nova73 components
External matrix controllers: Lawo VSM, Evertz Magnum, GV Ignite, Ross Overdrive, Vizrt Viz Mosart, Imagine Magellan, BFE KSC, Pharos, and others
Remote Maintenance
Connection via Internet remote software
Software updates, error diagnostics, remote assistance