Leader Europe Limited at IBC2018
Welcome to the IBC Leader Europe Limited newsletter. 2018 sees Leader Electronic Corporation celebrate its 65th anniversary. Back in 1954 the company launched its first product, the LSG 100 test oscillator. At IBC 2018 we will be showcasing four new products, two of which are the Leader's first 'True Hybrid' IP/SDI waveform monitor and rasterizer, as well as a new SDI waveform monitors and a new SDI rasterizers.

After four years in Hall 12, Leader have moved to a larger booth in Hall 11. With the launch of the brand new 'ZEN series'. We will also be demonstrating partner products from Bridge Technologies and Astro Design so we needed a bigger booth at this year. To schedule an appointment either email This email address is being protected from spambots. You need JavaScript enabled to view it. or
Telephone +44 7826 178752

'ZEN encompasses all and is encompassed by all' is the focus of Leader's new product range. To provide broadcasters, production companies and media production labs with the tools needed for measuring all elements of their video and audio signals, irrespective of the format, resolution, colour-space and transport medium.
Customers are currently faced with the dilemma of having to produce and monitor content in a multitude of formats, resolutions and colour spaces. That has now been compounded with the addition of High Dynamic Range and Video-over-IP infrastructures. Not all these technologies might be relevant to their businesses today, so Leader's new 'ZEN series', with its software license upgrade capabilities, is ideal for customer's present operations and can easily be upgraded to support any new requirements.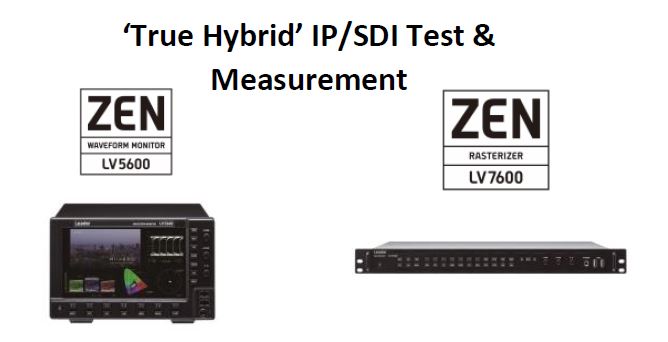 With the publication of SMPTE ST.2110, broadcasters can now seriously consider investing in and benefiting from COT's IP infrastructure. Leader's new 'True Hybrid' IP/SDI waveform monitor and rasterizer allow engineers, operational and production staff to focus on the quality of the video image and signal, without needing in-depth knowledge of whether the signal is SDI or IP. All of Leader's famous production tools, like the CINEZONE real-time 'false-colour' display, CINELITE measurement tools and 5-Bar Gamut display are now available for both SDI and IP sources, as well as new IP measurement tools, that allow SDI and IP sources to be displayed simultaneously. 'True Hybrid' IP/SDI Test & Measurement Both products now include CIE Colour display and Closed Captions as standard, plus Audio Loudness QC as part of the SER03 hardware option. Software licence options for HDR, 4K/UHDTV and 12G-SDI as well as Test Signal Generation and Tally Interface make the Leader LV5600 and LV7600 the ideal products for future proofing customers test and measurement requirements.
Whilst IP and HDR are grabbing the tradeshow headlines, the majority of broadcasters are still operating in SDI and standard definition, with high definition being their next technology upgrade. Leader's new LV5300 and LV7300 are designed for customers who need to replace ageing test and measurement equipment but do not want to pay a premium for features they will never need. The LV5300 3G/HD/SD-SDI portable waveform monitor and the LV7300, its rasterizer equivalent, feature all of Leader's famous production tools such as the CINEZONE real-time 'false-colour' display, CINELITE measurement tools and 5-Bar Gamut display as standard on both units. Both units also 8.18now feature support for Eye Pattern and Jitter measurement, as well as the increasingly popular CIE colour chart. Both products can simultaneously display two 3G/HD/SD-SDI inputs and support both AC mains power as well as DC battery operation making them ideal for operation by DITs on-set in the studio or at a remote production location. The LV5300 and LV7300 support software license upgrades postdelivery to enable audio monitoring, closed captions, CIE colour chart, HDR, built-in test pattern generator, focus assist, enhanced display layout, tally and 4K/UHDTV and 12G-SDI operation, thus future proofing customers test and measurement requirements.
As a global partner, Leader will be showcasing Bridge Technologies VB440 High Performance IP Probe. With Bridge Technologies' proven experience in the compressed video arena the VB440 40 Gigabit IP probe complements Leader's LV5600 & LV7600 by providing a breakthrough for the monitoring of high-bit-rate broadcast media traffic as defined in SMPTE ST.2110 and ST.2022-6 for core broadcasting networks, production studios, master control centres and outside broadcast vehicles and venues.

As European partner for Astrodesign, Leader will be showcasing Astro's high image quality, multi-function cross-converter solutions designed to meet the various challenges of 4K HDR production
Leader will be showcasing the LV5600 'True Hybrid' IP/SDI waveform monitor and LT4610 Video Sync Generator with PTP at the AIMS IP Showcase in Room E106/107. Sony will also be showcasing Leader's waveform monitors on stand 13.A10